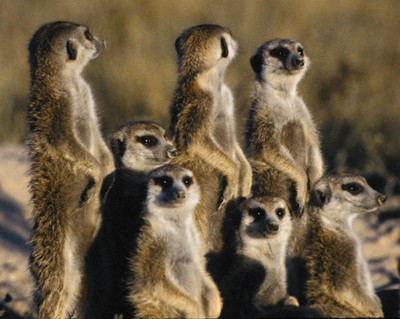 Fellow Earthlings Wildlife Center
---
PO Box 1319
Morongo Valley, CA 92256
Contact: (760) 363-1344
---
We have all kinds of animals for most any filming need. Fellow Earthlings' is often used as a film and interview site due to its unique ambiance and oasis-like grounds.
Founded in 1989, Fellow Earthlings' Wildlife Center is a 501(C)3 non-profit organization. We are the only privately licensed facility that specializes in caring for meerkats (Suricata suricatta). Situated in the high desert of California, just 25 minutes from world-famous Palm Springs and two hours from Los Angeles and San Diego, our location was carefully chosen for its climate, which most closely replicates that of the meerkats' native habitat in the Kalahari Desert of southern Africa.
Surprisingly, meerkats are one of the most strictly regulated animals in the world. We hold licenses and permits from California Fish and Game, U.S.D.A., and Fish and Wildlife Service. The animals come to us from accredited zoos and are placed here for a variety of reasons: The meerkats may be orphaned, injured, old, sick, or the previous facility has simply run out of room and can no longer care for them. The meerkats that are placed with us are given life-long homes at Fellow Earthlings' Wildlife Center, Inc.
---
PO Box 1319
Morongo Valley, CA 92256
---
Contact: (760) 363-1344