New Apple TV Series Casts Locals As Extras
Xochitl Peña – Special Freelance Writer
It's always fun when a production comes to town. The clamor of camera crews creates a buzz and reminds me of the desert's ties to Hollywood. It's especially exciting when the production is stacked with critically acclaimed actors and filmmakers like Patricia Arquette and Jay Roach and is produced by Apple TV. The only thing that could up the ante, would be to get involved in the production.
Well that's exactly what I did. I was fortunate to land a part as an extra, as did many other locals. And as a movie geek, it was everything I had hoped it would be and a little – wait for it –  extra.
Called "High Desert," the Apple TV series filmed at various locations in Riverside County (Palm Springs and Desert Hot Springs) in January. It also filmed in San Bernardino County, Long Beach and Santa Clarita and wrapped up in March.
The show centers around former addict Peggy, played by Arquette, who lives in Yucca Valley with her mother and decides to become a private investigator following her mother's death. Roach, known for "Trumbo" and "Bombshell" directs while Nancy Fichman, known for "Damages" and "Nurse Jackie" serves as showrunner. Throw in other cast members like Bernadette Peters, Matt Dillon, Brad Garrett and Christine Taylor  – and the potential for another successful Apple TV series is highly likely. The show also reunites Arquette with Ben Stiller, who serves as an executive producer. The two are frequent collaborators, having worked together on Apple TV's "Severance," the 2018  "Escape from Dannemora" and the 1996 comedy "Flirting with Disaster."
With Arquette's "High Desert" character living in Yucca Valley, I was happy to see they wanted to shoot some scenes in the actual high desert and other parts of the Coachella Valley, for authenticity. While in town, the production took advantage of local talent and utilized local businesses and extras who were able to earn income and experience working on a highly professional and big league TV production.
I was able to get involved by responding to a casting call for "Swamp Flower" – the show's working title – posted on the Greater Palm Springs Film Alliance & Film Office website and shared by the local news media. The production was looking for men and women of all ethnicities and types to work Jan. 19-22 for filming in Palm Springs and Joshua Tree. I filled out an online application and Voila! I got a call a few days after the deadline asking if I was available for one day of filming. YES! Bucket-list item checked off.
The "home base" for local production was the dirt lot directly behind the dinner show restaurant and night club Asia SF along S. Palm Canyon Drive.  Rows of Star Waggons film trailers – a telltale sign of filming – dominated the landscape, in addition to an impressive craft service set up by Orlando's movie catering.
Before I could show up on my day of work though, I had to take a COVID test. Thankfully my test came back negative, so I was given a "call time" and told I would play a "clinic staff member." It was all very exciting.
The first stop on my day of filming was the health and safety station to verify my COVID status. And after they deemed me safe to work, it was off to wardrobe where I was handed a few outfits to try on before we landed on the perfect set of scrubs that would help me blend into the background.
There were a handful of other extras there too – all getting fitted for what would be a scene at a clinic. The clinic turned out to be the building locals know as Guide Dogs of the Desert in Whitewater.
After wardrobe, it was off to hair and make-up, where my long, black hair was pulled back into a bun – apparently the hairdo of choice for clinicians. As I was getting my hair done, I noticed a photo of Arquette posted on the wall, which made me wonder if I was sitting in the same chair as the main character. I've been a huge fan of hers since "True Romance." Goosebumps!
By now, it was lunch time, so off to craft services I went. The spread was impressive, almost intimidating. I made the rookie mistake of taking the first few things I saw – grilled fish and Brussel sprouts – when I should have held out for the steak kabobs or Philly cheese steak sandwich.
After a very satisfying lunch, it was finally time to start filming. A small caravan of transportation vans showed up to haul some cast and crew to the location. I jumped into a van that eventually filled with a slew of veteran crew members who swapped war stories and compared which A-list directors and actors they've worked with and what they were like. It was all so fascinating. I almost felt guilty for listening in, but in a small van, I couldn't help it.
Once on set, a lot of the day was spent sitting around waiting to be called for my scene. But I didn't mind. The transformation from a facility that trained guide dogs for the seeing impaired, into a bustling production with cameras, television monitors and dozens of crew members, was incredible to see.
When it was finally time for my scene – which involved me carrying medical equipment and shuffling paperwork in the background of a medical office receptionist area – I was thrilled to find out Arquette would also be in it. And Roach was there too, guiding every take.
We must have done about a dozen takes for the one scene that seemed to last only a few minutes, and that didn't include all the reverse-angle shots afterwards.
Seeing all the trailers, production equipment and film crew members set up across the desert, is proof of the hard work that goes into creating a television show and that the Palm Springs area is a viable place to film.
I was warned by my fellow extras on set, to not get my hopes up in case my scene gets cut or they choose an angle that doesn't include me.
My fingers are crossed – but even if I do get cut, at least I had the experience. And since I got paid, I'm officially considering myself a working actor. That seems fair, right? Maybe in the future, I'll be the one in the transport van telling other extras about what a pleasure it was to work with a pro like Patricia Arquette. Here's hoping.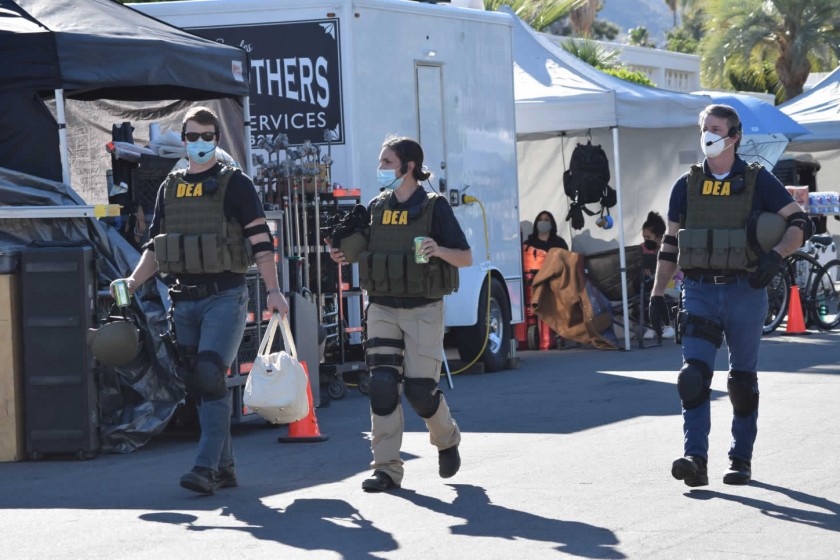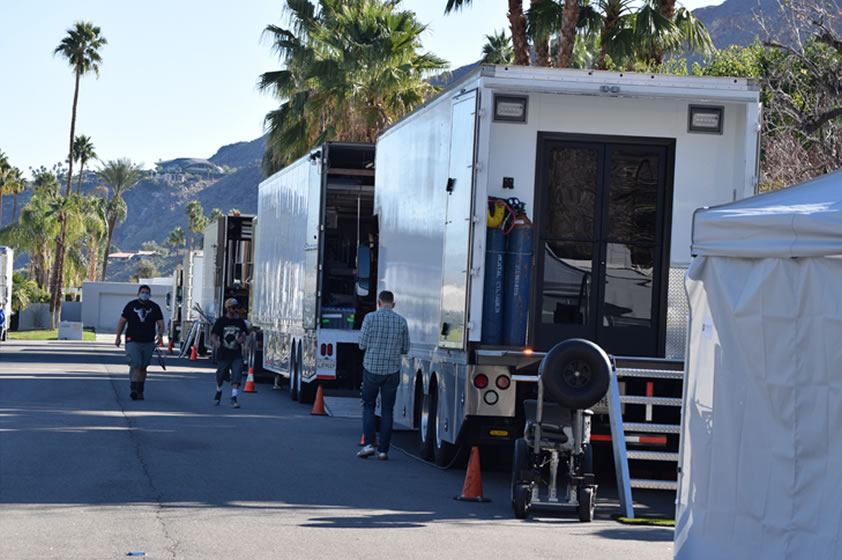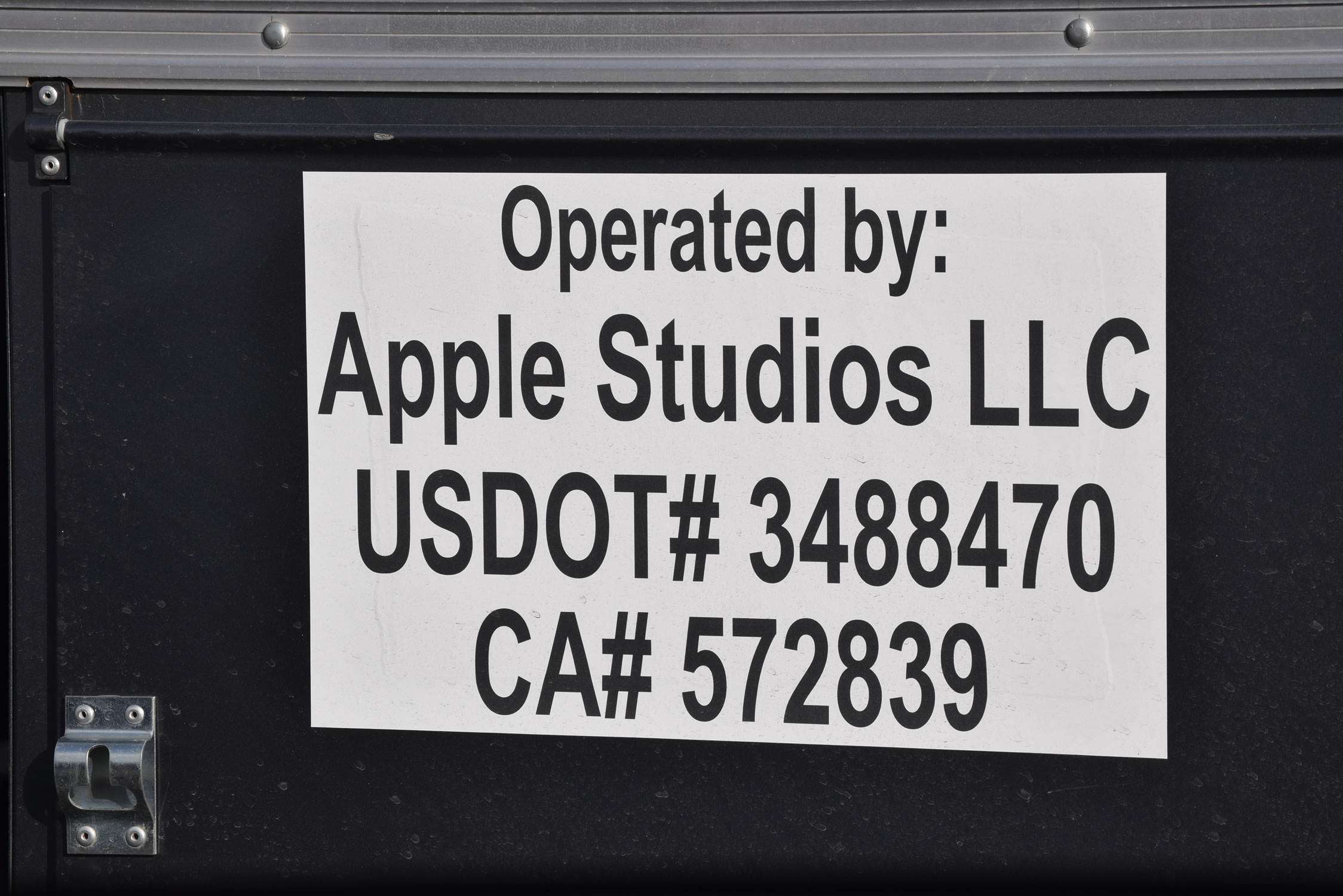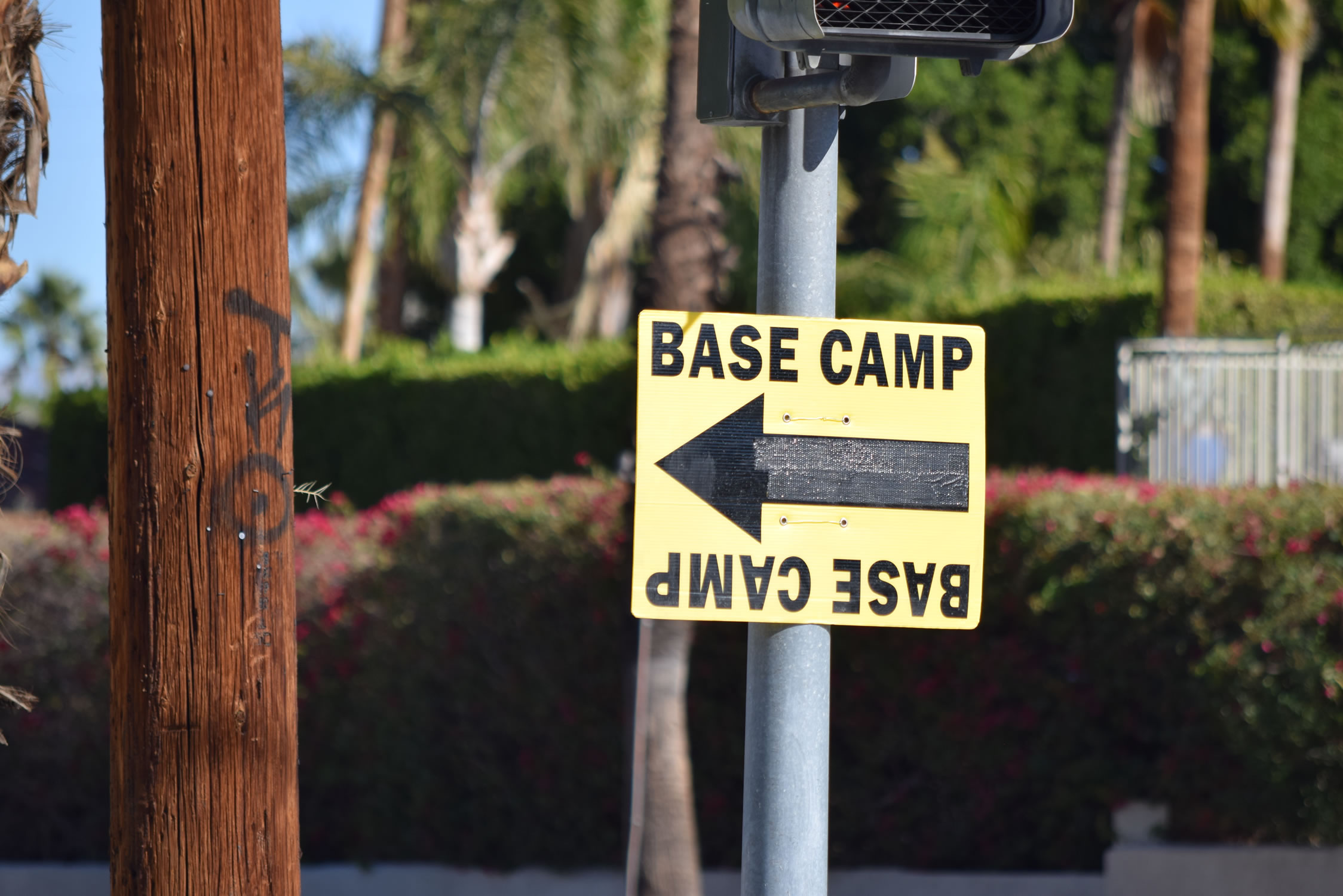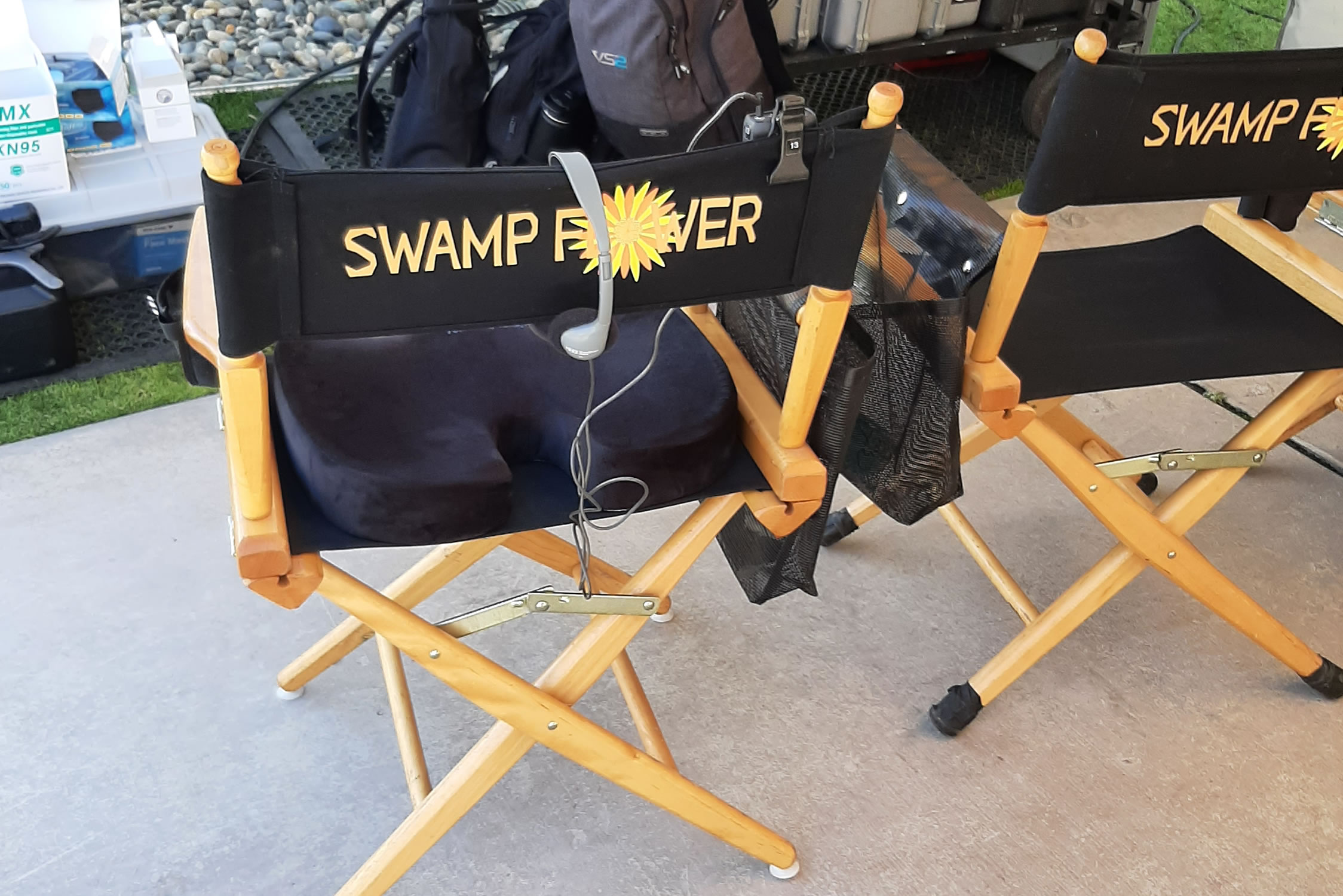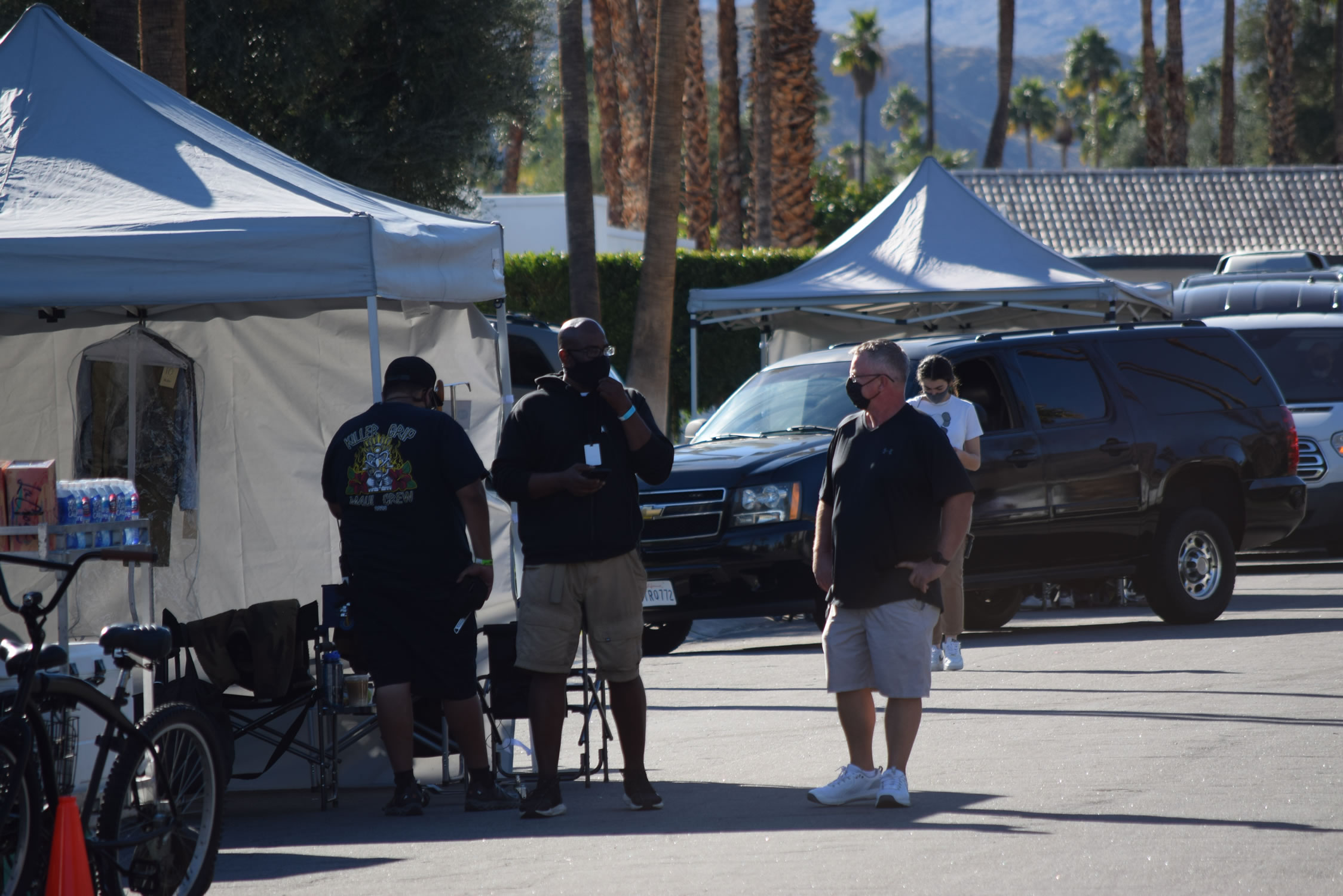 Special Freelance Writer – Greater Palm Springs Film Alliance & Film Office
I moved to the Coachella Valley from Michigan almost 20 years ago and prefer the triple-digit-heat over the sub-zero temperatures. I'm a self-proclaimed movie geek who graduated from Michigan State University and love my Spartans. Prior to my current daytime gig as an Outreach Specialist at Desert Water Agency, I was an entertainment columnist at The Desert Sun/USA Today who cherished covering all the major desert events including the Palm Springs International Film Festival and ShortFest.
Palm Springs Women in Film and Television is now accepting new members! Visit PSWIFT.ORG for more information.