FULL-SERVICE PRODUCTION STUDIO OFFERS VAST RESOURCES AT A VALUE
PALM SPRINGS FILM FACTORY - THOUSAND PALMS, CA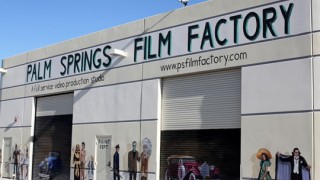 Standing inside the Palm Springs Film Factory, one might think they're at one of LA's multifaceted production studios, complete with all the bells and whistles one would expect. But this sizeable production powerhouse calls Thousand Palms its home.
Bruce Carson, Studio Manager for the PSFF, who has over 30 years experience in the film production industry, says that the original PSFF business plan evolved in order to accommodate clients' production needs. "We originally opened this up as a studio services company. We were not going to actually offer production equipment, and somewhere along the line, we ended up buying high end HDV-HD cameras, an HD switcher and HD disc recorder, wireless microphones and so on. Now, we pretty much offer everything, including multiple camera switching, editorial, effects and graphics. Plus we're a studio services company that rents, for example, just the stage, lighting and the grip equipment – whatever you want. We can do just about everything without walking off the lot," shares Bruce.
The green screen is big – really big, at about 1,500 square feet (45' x 28').
There's 7,500 square feet of stage area, they'll build and store sets, and feature a full dimmable lighting grid, a three-ton grip package plus full lighting array, a Blackmagic HD control room, a soundproof control room, and much more.
Bruce explains, "When you come here, you probably won't need more than what he have on-site. If you want to do a three or four-camera shoot, we can do that. If you want to switch it, we can do that. We can 'iso' all four cameras and switch it and edit without leaving the building."
The PSFF offers a variety of packages with various price points for a variety of production needs, including, infomercials, commercials, short films, full length feature films, TV shows, product demos, plus audio recording and voice-over.
This formidable filming resource became a reality, because CEO, Gloria Manelis saw a need in the Greater Palm Springs Area for a facility such as the PSFF.
Not only does the production studio offer a wide range of services of value to all kinds of people who need all kinds of production, the services are value-priced. "We're very reasonable with pricing here and cost-competitive. If you're doing a production and want to save money, this is a great option. It's a bargain to shoot here," says Bruce.
PALM SPRINGS FILM FACTORY - location photos