*** CASTING CLOSED *** 
If you would like to participate in the next casting announcement, please click here: Casting
GWENDOLYN GREEN – A Short Film
NOW FILMING AT A LOCATION NEAR YOU!
Seeking background talent (some with speaking roles) for a three-day shoot: July 14, 15 & 16th. 
Location – Palm Springs, CA (see details below)
Film Dates:
— Friday, July 14 (6am – 4pm)
— Saturday, July 15 (12pm – 10pm)
— Sunday, July 16 (9am – 6pm)
Location: Palm Springs, CA
Pay: $100 (per 8-10 hour shift)
Age: See Roles
Gender: See Roles
Food: Shift Meals Provided
Wardrobe: Combination of own and wardrobe department
Note: Refreshments will be provided but bring your own water
* Special Note Regarding Child/Minor Roles: A legal parent or guardian must submit on behalf a minor. If you are under 18 years of age, please have your legal parent or guardian submit on your behalf.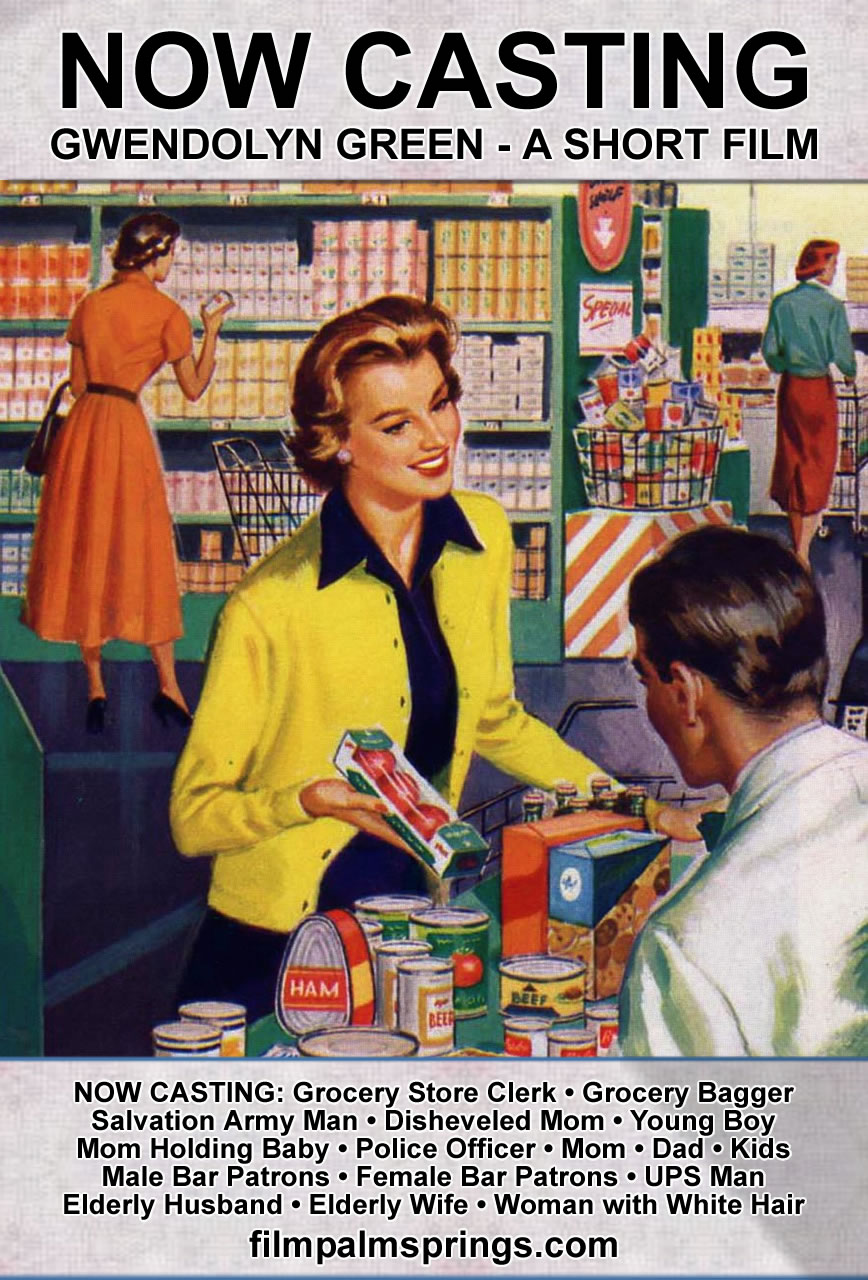 *** CASTING CLOSED ***
Friday, July 14th filming, 6am call time:
— Grocery Store Clerk (speaking role, 18 to play younger, female)
— Grocery Bagger (teens/20s, male)
— Salvation Army Man (50s-70s)
— Disheveled Mom (20s-30s)
— (2) Young Boys (5-10 years old)
— Mom holding baby (20s-30s, prop baby)
— Dad (28-40s, Hispanic)
— Mom (28-40s, Hispanic)
— (2) Kids (7-10, Hispanic, any gender)
* For the mom, dad, and kid roles, actual families are encouraged.
Saturday, July 15th filming, 12pm call time:
— Police Officer (50s-60s, male)
— (2) Male Bar Patron (20s)
— (2) Female Bar Patron (20s)
Sunday, July 16th filming, 9am call time:
— UPS Man (30s-40s)
— Woman with White Hair (50s-70s)
— Elderly Husband (60s-70s)
— Elderly Wife (60s-70s)
For updates and behind-the-scenes photos, be sure to follow the
Greater Palm Springs Film Alliance & Film Office on Twitter and Facebook: