GREATER PALM SPRINGS OFFERING FREE PPE SUPPLIES
TO FILM AND TV PRODUCTION CREWS ON LOCATION
The Coachella Valley Offers a "Hassle Free" Alternative
to Flying to Distant Locations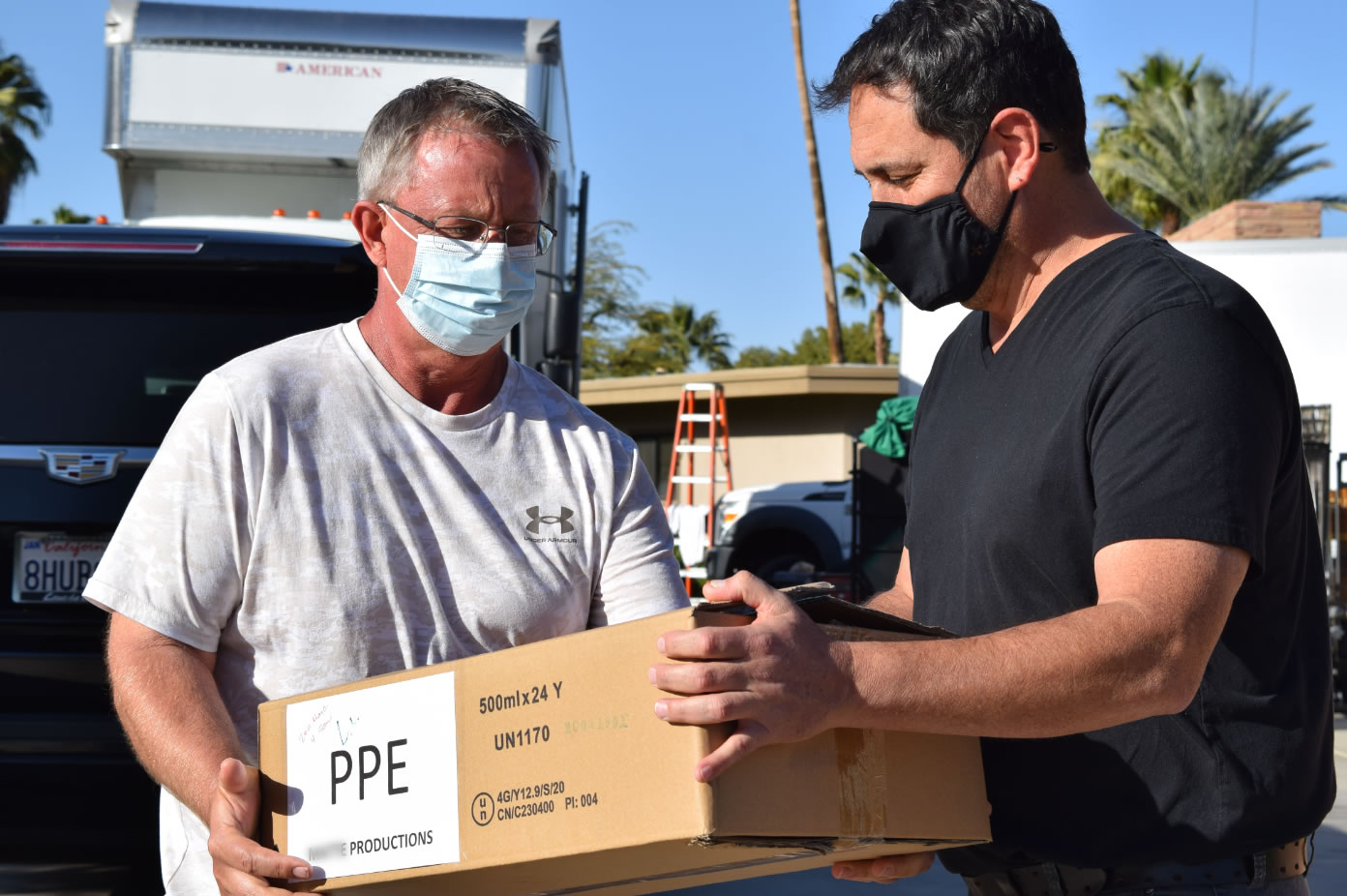 Palm Springs, California, February 28, 2021 – The Greater Palm Springs Film Alliance & Film Office (GPSFO) announced it is offering FREE supplies of Personal Protection Equipment (PPE) to Film & Television production crews shooting on location in the Coachella Valley and other areas of Riverside County.
The program is part of The Coachella Valley Economic Partnership's (CVEP) "Million Mask Giveaway," and is made possible by the California Governor's Office of Emergency Services. CVEP is coordinating the distribution of 1,440,000 face masks, 96,000 16.9 oz bottles of hand sanitizers, and 40,400 face shields to local businesses.
"The Coachella Valley is pleased to offer the production industry a business-friendly California alternative to leaving the state. Our proximity to Greater Los Angeles makes our region an easy choice for film production without the hassles of flying," said Joe Wallace, CEO of the Coachella Valley Economic Partnership.
Levi Vincent, CEO of GPSFO, is a COVID Compliance Officer and is available to assist local crews in minimizing health risks as well as complying with health regulations. Vincent is also certified as a Pandemic Compliance Advisor for the Professional Meetings Industry.
About the Greater Palm Springs Film Alliance & Film Office
Recognized as the official film office of the Greater Palm Springs region, the Greater Palm Springs Film Alliance and Film Office (www.filmpalmsprings.com) is the Coachella Valley's economic development resource dedicated to attracting all types of film and media production to the Coachella Valley. The Film Office encompasses many activities, such as attracting and promoting film and television productions, facilitating access to filming locations, connecting producers with local crew, talent and vendors, and acts as liaison between industry and government entities; all while marketing Greater Palm Springs as a world-class production region in the United States. The Film Office works with all local governments, including city, county, state and tribal entities.
About CVEP 
The mission of the Coachella Valley Economic Partnership is to incite a vision-driven economic transformation in the Greater Palm Springs region. Established in 1994, the nonprofit organization is a vital innovator of regional business development initiatives, fostering entrepreneurship and diversifying industry. As the only regional entity with the capacity to execute technology-led economic development, the partnership has dedicated significant resources to incubate cutting edge businesses through its pioneering iHubs in Palm Springs, Palm Desert, and Indio. CVEP is committed to promoting a diversified, year-round economy through business attraction, retention and expansion. Visit www.cvep.com or call 760-340-1575.
###