Film industry on the rise in the Coachella Valley
Experts say increase is two to three times average
Katie Winder Interviews Film Office Executive Director Levi Vincent – April 18, 2017 
CBS Local 2 News: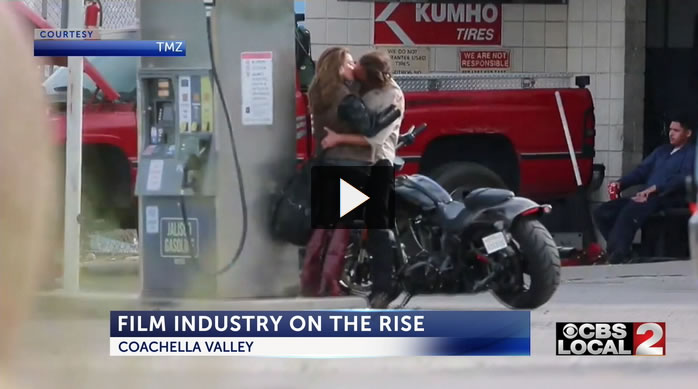 Watch Video: VIDEO
COACHELLA VALLEY, Calif. – Earlier this week, Lady Gaga and Bradley Cooper were caught making out in Desert Hot Springs by TMZ cameras. They are in the area to shoot the major motion picture "A Star is Born."
Levi Vincent, executive director of the Greater Palm Springs Film Alliance, said that shooting movies in the Coachella Valley is not a new concept, it is a growing trend.
"Filmwise- motion pictures, indie films, stuff like that- normally we only do six to eight a year. This year we will do a lot more, though. We will probably do between 12 and 25," he told KESQ News Channel 3's and CBS Local 2's Katie Widner.
He said the increase in business is due in part to the growth of the city. In fact, Vincent said that last year, Riverside County brought in over $30 million from the industry. The city of Palm Springs took in $12 million. Those profits trickle down into the local economy.
"Mostly it goes to hotels, gas stations, caterers, high school graduates. It gets dispersed everywhere," Vincent said.
At the Saguaro hotel in Palm Springs, marketing manager Kayla Decosta-Avery said they have felt it too.
"Production has increased in the last few years," she said. "Palm Springs is becoming a very hot spot for filming."
The hotel will be housing the entire production team for "Senior Moment," starring William Shatner and Christopher Lloyd. KESQ News Channel 3 anchor Karen Devine will be making a guest appearance in the movie as well.
"I will tell you it's a monthlong piece of business that we've earned. It's making a significant impact in our business," Decosta-Avery added.
The crew, roughly 150 people in all, will be eating, shopping and living locally for that time.
###