OUR PERMIT PROCESS IS SIMPLE
AND DOESN'T REQUIRE CITY APPROVAL.
The Agua Caliente Band of Cahuilla Indians invites you to explore our beautiful reservation for your filming and photography needs. From secluded spring-fed waterfalls in our Indian Canyons and Tahquitz Canyon recreation parks to our vibrant, luxury, casino resorts and golf courses, the Agua Caliente Indian Reservation is a location manager's dream.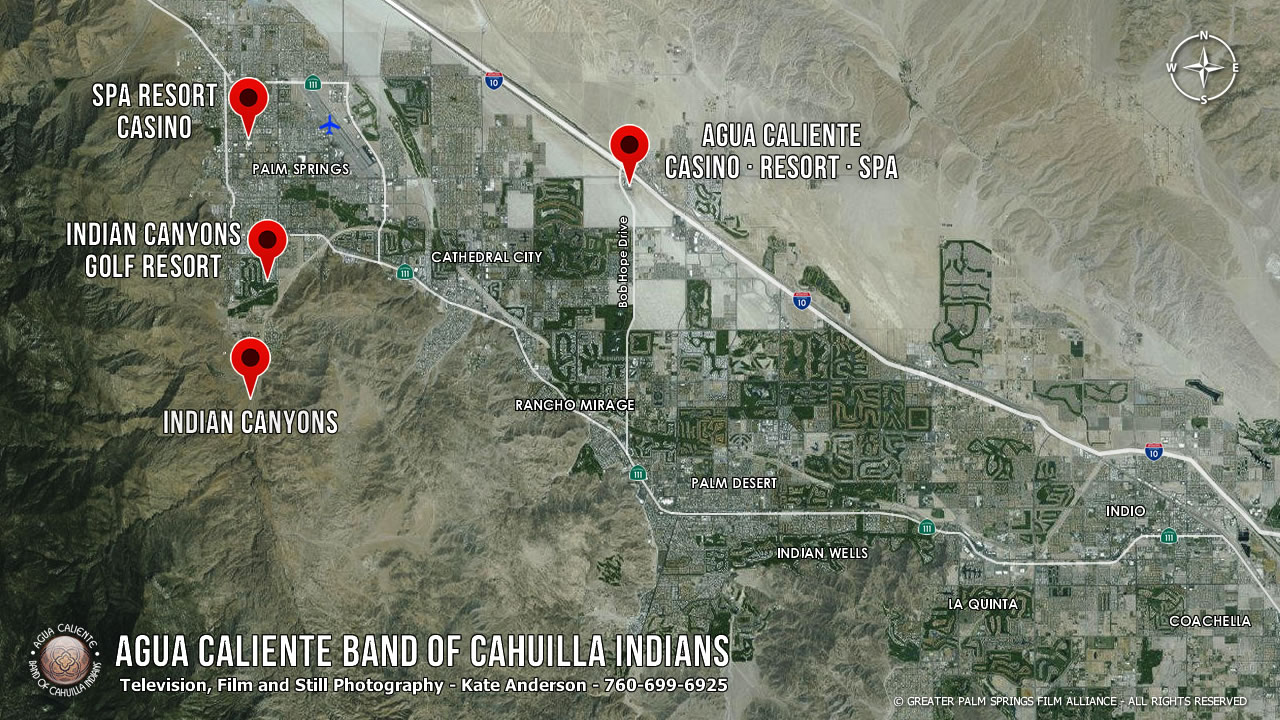 The Agua Caliente Band of Cahuilla Indians operates two premiere casinos in Southern California, one in downtown Palm Springs and the other in Rancho Mirage. All venues are available for film and still photography productions.
Spa Resort Casino is nestled in the heart of downtown Palm Springs in Southern California, approximately two miles from the Palm Springs International Airport and two hours east of Los Angeles. The property features a gorgeous 24-hour casino with slots, table games, fine-dining, and a live music lounge. The Spa Resort Casino is perfect for both film and still photography.
AGUA CALIENTE CASINO · RESORT · SPA
Rancho Mirage, California
Agua Caliente Casino Resort Spa is located in Rancho Mirage, right off interstate 10. It features 24-hour gaming with more than a thousand slots, a large, live poker room, table games, a 16-story hotel with exquisite guest rooms, a presidential suite, a spa, fine dining, outdoor pool and bar area, conference center, a live music lounge, and a fantastic 2,000 seat concert Theatre called The Show.

Indian Canyons Golf Resort features two beautifully manicured courses, each with distinct personalities, and surrounded on three sides by breathtaking mountain vistas. It is known for its wind-free environment and unparalleled views of the desert landscape.
Fifteen miles long, Palm Canyon is one of the areas of great beauty in Western North America. Its indigenous flora and fauna, which the Cahuilla people so expertly used and its abundant Washingtonia filifera (California Fan Palm) are breathtaking contrasts to the stark rocky gorges and barren desert lands beyond. A moderately graded, foot path winds down into the canyon and is the perfect backdrop to for any production.
Contact:
Kate Anderson
Director of Public Relations
760-699-6925